After managing to get through the burning hot summer, the coming of autumn feels like a reward. Bit by bit, the sky starts to feel more open, the air fills with a clear coolness in the mornings and evenings, and the fields and mountains come to bear their abundant harvests. Once September comes around, the first thing that appears heralding the new season is kuri kinton (mashed sweet potatoes with sweetened chestnuts), which is made with specialty chestnuts (kuri) from Nakatsugawa, Gifu Prefecture.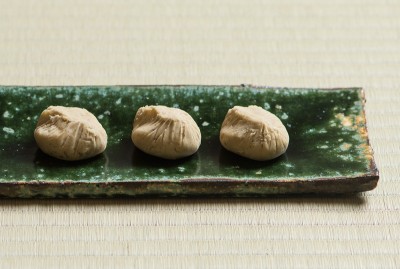 Japanese people have been using chestnuts since as far back as the Jomon period, which demonstrates a long-standing, deep relationship with this species of tree. From research conducted at the Sannnai-Maruyama Ruins in Aomori Prefecture, it can be inferred that the past inhabitants of this area did not simply collect chestnuts from the fields and mountains, but that they probably cultivated them, selecting and propagating the number of chestnut trees bearing large, sweet fruit. In later times, the Japanese came up with various ways of eating chestnuts. They were either boiled, steamed, candied or mixed into rice to make kuri-gohan. It is indisputable, however, that the outstanding way of eating this nut was to turn it into confectionary. In particular, kuri kinton was made by crushing steamed chestnuts using a mortar and pestle. Sugar was then added, and the mixture was simply squeezed in a tea towel. Such a simple recipe allows for the flavor of the chestnut to be savored just as it is. What a perfect type of confectionary for heralding the coming of autumn.
Holding the slightly golden-colored kuri kinton is a long rectangular plate finished in an Oribe glaze that appears to reflect the green of deep mountains. Japanese pottery remained unglazed after the Jomon period, with glazed vessels (done in a lead-silicate-based copper-green glaze) finally appearing during the Asuka period. Nara sancai, which integrated the Chinese sancai technique, appeared later during the Nara period, joining these copper-green glazes. Then, around the time of the Sengoku period, what is known as "Oribe ware" came to be fired in Mino. Oribe ware applied a white glaze separately to an Oribe glaze with a bright green hue, the result of the presence of copper sulfate. The history of Oribe ware is still full of riddles, such as the degree to which Furuta Oribe, who was a Sengoku period feudal lord and a leading disciple of Sen no Rikyu, was involved with Oribe ware itself.
However, it was definitely with this green-colored pottery that Japan's very first "tableware fashion," which included not only tea ceremony vessels but also luxury tableware, came into existence and swept through the entire country, Kyoto in particular. The confectionary and the pottery both came into existence in Gifu Prefecture and have firmly established their places as symbols of the abundance of nature and culture in this area.