Geography
History
History
Column
Highlights
Organizations
A distinctive flavor that is seeped with old and new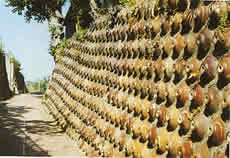 Tokoname lies on the west coast of the Chita Peninsula in Aichi Prefecture, directly across Ise Bay from the city of Yokkaichi. Accessible in about 40 minutes from Nagoya on two Meitetsu lines, Tokoname is an ancient pottery production area with a history of 900 years. The name Tokoname is an old word that also appears in the Manyoshu, Japan's most ancient ancient poetry anthology, and means "place that is always slippery." In actual fact, the region did have many areas where the rocky earth surface was exposed, producing abundant supplies of smooth, high-quality kaolin containing iron. Walking through town, one may notice its many nostalgic sights? tall brick chimneys, the remains of old climbing kilns, or sloping streets stacked high with clay pipes or flower pots, but Tokoname also offers many modern discoveries, such as monuments and massive artworks. A place where the old and new aspects of pottery culture are nicely harmonized, Tokoname is a town with a distinctive flavor.

Tokoname, the largest of the Six Ancient Kilns of Japan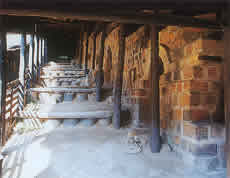 Appearing during the late Heian period (794?1185), Tokoname ware has a long history of some 900 years. It got started by borrowing the techniques used in the production of Sue ware, which was brought to Japan from the Korean Peninsula during the Nara Period (710 ?794). It is considered to be the oldest of the Six Ancient Kilns of Japan and to have had the largest scale of production. During the Heian and Kamakura (1185?1333) periods, religious goods such as sutra mound pots covered in natural glazes were produced, fired in anagama (underground or semi-underground) kilns. In the Muromachi period (1338?1573), pots and earthenware pots were producing using the mayake-mono (unglazed stoneware) technique, which created jet-black, sturdy pieces. The industry [then declined, but] was later revived in the second half of the Edo period (1603?1868), giving birth to new kinds of pottery such as shudoro-yaki (red stoneware), which was influenced by China. Nowadays, it is red stoneware teapots, which are fired using this technique, that are the most emblematic Tokoname product. Another product that symbolizes Tokoname production are clay pipes, which were manufactured by Hoju Koie from the Meiji period (1868-1912) onwards.

The road to prosperity with Meiji-period industrialization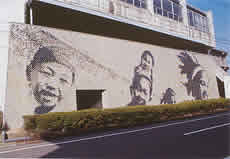 The pioneers of what is now mainstream Tokoname production tiles and everyday tableware were the father and son Hatsunojo Ina and Chozaburo Ina of today's INAX (LIXIL) company. At the time that they were working, numerous clay processing plants and modern factories were set up, transforming Tokoname into a great production area for ceramics.
The photo on the right depicts a ceramics wall in the genre of street art. Such walls can be found in Tokonamenishi Elementary School, Tokonamehigashi Elementary School, and Onizakiminami Elementary School.
Products
Red stoneware teapots

New pottery techniques were created in Tokoname from the last years of the Edo period through the early Meiji period. One of these is red stoneware, which uses clay rich in iron and is fired at high temperatures. This stoneware's red color is representative of Tokoname.

Ko-Tokoname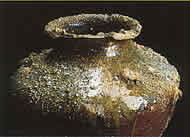 A large number of kilns had been built in the suburbs of Tokoname from Heian times, through the Kamakura period and into the Muromachi period. These kilns produced everyday items such as bottles and pots. Works produced during this period were forgotten about for a long time, but the beauty of these wares that were produced in Tokoname hundreds of years ago started to be appreciated from around 1960, when ancient pottery wares started to receive attention Japan-wide. These works came to be referred to as Ko-Tokoname (old Tokoname ware) and are prized by ceramics aficionados.

A wealth of sightseeing spots recommended for tourists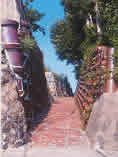 Tokoname features a Pottery Footpath with two walking courses, A and B, both of which depart from Tokoname Ceramic Hall. The highlights along course A include Clay Pipe Hill, where clay pipes and pieces of shochu alcohol pots are embedded along a slippery slope, and the Ichiki-Bashi Bridge, which offers commanding views over Tokoname. This course allows for full enjoyment of these scenes offered by this pottery town. Meanwhile, course B incorporates numerous facilities that can be visited to gain a full understanding of Tokoname ware, including Tokoname Tounomori and INAX Museums.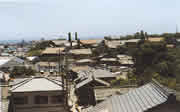 The Pottery Footpath is loaded with attractions
The entire city looks the color of pottery as one walks along either of these walking courses. With the small pottery shops that can be found in Tokoname's back alleys, the maze-like tangle of streets, the unexpected view of the sea spreading out before your eyes when you climb up a slope, Tokoname is a perfect spot to slowly explore on foot. Course A (40 minutes required) is for people who wish to focus on enjoying Tokoname's streetscapes, with its climbing kilns and Clay Pipe Hill. Course B (2.5 hours required) is recommended for those who are interested in the history of ceramics, particularly in Tokoname ware. The town has many galleries, which are rather stylish these days. For those who are interested in shopping, we recommend Ceramall (Pottery Wholesale Complex), which features 20 stores, restaurants, and a park. All manner of inexpensively priced ceramics can be found here. Tokoname is also known for its numerous pottery classes, which can be found all over the town. All courses are well set up, offering a taste of everything from painting on fired pieces to the real deal in pottery-making.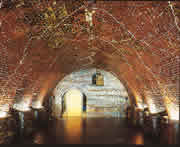 INAX Museums' Kiln Plaza

Pottery School in Climbing Kiln Square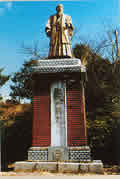 Ceramic Statue of Hoju Koie known as the god of clay pipes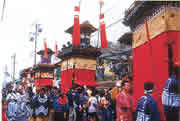 Spring festivals – Spring festivals are held in various places around Tokoname between the end of march and early May. One can feel the cultural heritage of the town as one views the festival floats with their trick mechanisms or their gorgeous decorations, a legacy of the Edo period.

Tokoname Ware Festival – Held on the fourth weekend of August each year, this is a grand bargain sale for Tokoname wares.

The great fireworks display for the Tokoname Ware Festival – Held at the Tokoname Motorboat Racecourse on the Saturday night of the festival, the fireworks display adds dazzling beauty to the event.
Organizations
Tokoname Pottery Wholeselers Cooperative Association
Tokoname-yaki Cooperated Association