Geography
History
Present
Highlights
Organizations
The birthplace of Hasami ware
Hasami is located in Nagasaki on the prefectural border with Saga. It is the prefecture's only basin that is surrounded by mountains on all sides and does not face the sea. Visitors to the town will be impressed by its greenery at any time of the year. Hasami offers many old-time scenes, such as fields of the kind encountered in legends, beautiful rice terraces, little swamps, and a rich natural bounty from which mountain vegetables and wild grasses can be harvested. Hasami also offers many sights unique to pottery towns, such as the brick chimneys and ancient kilns of Nakaoyama. In the past few years, the activities of a young generation of artists have created many new fans for Hasami ware. Thanks to the opening of cafes and shops in renovated buildings that were once used for ceramics production, or restaurants cooking with locally sourced produce, the town has also seen in increase in sightseers. How about a visit to Hasami to enjoy the town's many charms and newly produced items of Hasami ware?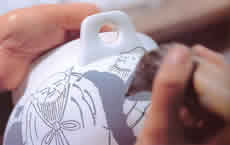 One small kiln: the beginnings of Hasami ware
These pottery items that were excavated from the ruins of a kiln in Shimohiekoba are earthenware. They date back to somewhere around 1590 to 1610. These items tell us that pottery was already being fired at this time in the whole of the surrounding Hizen area, and that this developed into a production area quite early.
The start of porcelain production
Hasami succeeded in porcelain production at around the same time as Arita. Earthenware items and a small number of porcelain items have been excavated at the site of the ruins of Hatanohara kiln.
Celadon: an ultra-luxury item of the Edo period
Porcelain production became mainstream, with a focus on the production of celadon. Many pieces that have carved floral patterns on a light-blue, almost transparent body can be found. Based on digs at the sites of what were once wealthy residential areas all over Japan, it is thought that celadon from Hasami enjoyed a wide circulation as a luxury product.
The era of international export
China, which was suffering from ongoing civil wars during the transition from the Ming dynasty to the Qing, found itself no long able to export ceramics. Instead, Hizen-produced ceramics came to be exported worldwide in place of Chinese products. With this, Hasami developed into a major production area for porcelain.
Kurawanka bowls: the beginnings of everyday tableware
Sanjikkoku-bune boats, an old style of barge, were an important means of transportation during Edo-period (1603-1868) Japan. Traders riding in smaller vessels used to approach these barges and call out: "An-mochi kurawanka, sake kurawanka," (lit: Who wants some bean-paste cakes? Who wants some sake?). They would fill bowls with sake or food, which they sold to people on the barges. These bowls, which were used freely as cheap, everyday wares, came to be known as kurawanka bowls, after the call of the sellers, and Hasami became a major production area. Kurawanka bowls became a big-hit product of the Edo period and found their way all over the country, spreading the use of porcelain dishes as everyday tableware among the commoners. Digging at the site of Edo-period ruins is almost certain to reveal items of Hasami ware.
A stream of big-hit products
From the Showa period (1926?1989) right through until the present day, Hasami has continued to produce classic, popular patterns and to re-issue designs. It produces "long-life designs" that are not effected by the fashion of the day and come to be loved as classic pieces.
Crisis accompanying the dawn of a new era
With the dawn of a new era in national government at the start of the Meiji period (1868-1912), the feudal system was dismantled, and Hasami lost the backing of a feudal patron. Hasami ware faced a life or death crisis. The industry took various measures, such as the formation of unions, to try to overcome the situation. Everyday tableware continued to be produced, and the industry gradually returned to a vibrant state.
The pursuit of design and functionality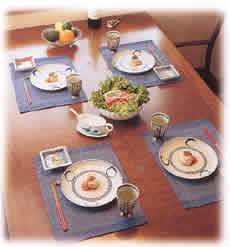 Hasami's ceramics industry also started to put effort into making its products approachable for the consumer, with product series aimed at small families, products that were designed with ease of storage in mind, or the production of universal-design items that gave priority to the product being lightweight and easy to hold. Hasami also came to do a thriving business in the production of stove- or direct-flame-compatible cookware. The production of well-designed products thought up by young designers also served to widen Hasami ware's fan base.
Towards the production of even more user-friendly products
The Hasami ceramics industry is working towards the creation of "even more user-friendly tableware." It is currently running a self-generated project?a first for the country?to make the tableware that is use by families on a daily basis completely lead-free. The industry aims to be Japan's premier producer of Japanese-style tableware as it continues to manufacture safe, high-quality products.
The home of pottery: Nakaoyama's Denshikan and Koryukan
With production starting during the middle of the Edo period, Nakaoyama has a long history as a pottery area. During its heyday, Nakaoyama had the world's largest, massive group of climbing kilns, which were over 160-meters long. These produced vast amounts of porcelain for export, to say nothing of the domestic market. Nakaoyama came to be known as "the home of pottery."
A small gallery in a mountain setting, Koryukan displays original pieces by various kilns, together with old porcelain wares and documents related to pottery in Nakaoyama. Meanwhile, the Denshinkan offers both accommodation facilities and a workshop where visitors can try their hand at pottery. This is a spot where visitors can enjoy a leisurely stay and can indulge in pottery-making to their heart's content.
Yakimono Koen
The Togei no Yakata, which lies in a corner of Yakimono no Koen (lit. Pottery Park), was built in order to hand down the traditional techniques of Hasami ware with its 400 years of history, to educate the next generation of potters, and to promote the development of new products. A pottery classroom and a sales corner are located on the first floor. With displays of shards that were excavated from the sites of ancient kilns and a vast collection of materials relating to the history of kurawanka bowls and Mitsumata sake bottles, the second floor provides visitors the opportunity to trace their way through the history of Hasami ware. The Togei no Yakata has many varieties of Hasami ware on display, from products that have been created through the history of this ware to works by traditional craftsmen. The teaching robot, which has illustrations, is popular among visitors for its realistic expressions and narration. The World Kilns Park can be found on top of a small hill in Yakimono no Koen. This presents reproductions of 12 of the world's top kilns. This outdoor kiln museum, which is quite rare in world terms, is one of Hasami's new attractions.
The Hasami Pottery Festival
Held between 29th April and 5th May, with Yakimono no Koen as its main venue, this is Nagasaki Prefecture's greatest pottery festival. The festival is lively with stalls set up by some 130 Hasami-based kilns and companies, together with the many shoppers that attend the event. With selling also going on under large-scale tent cover, visitors can enjoy shopping for pottery with peace of mind, rain, hail, or shine. The festival also offers opportunities to experience throwing pots on a wheel or painting ceramic items, together with a photo contest on the theme of Hasami.
Konosu Park
Konosu Park was created as a place to enjoy recreation and sports in a natural setting in Hasami that is blessed with beautiful greenery and water. Lined with rows of cherry blossom trees, "Sakura Banks Road" has become a new attraction in Hasami as a jogging or cycling course.
Hasami Onsen
Hasami onsen is a popular oasis for tourists. Flowing from a bicarbonate source, the silky hot spring waters are popular for their reputed effectiveness in skin beautification. The Hasami Onsen Summer Festival is held on 28th August each year, embellishing the end of summer with grand-scale entertainments such as performances and fireworks displays.
Organizations
Hasami-yaki Shinkoukai (Hasami Ware Promotion Association)
Hasami Porcelain Industrial Association
Mikawachi Porcelain Industrial Association