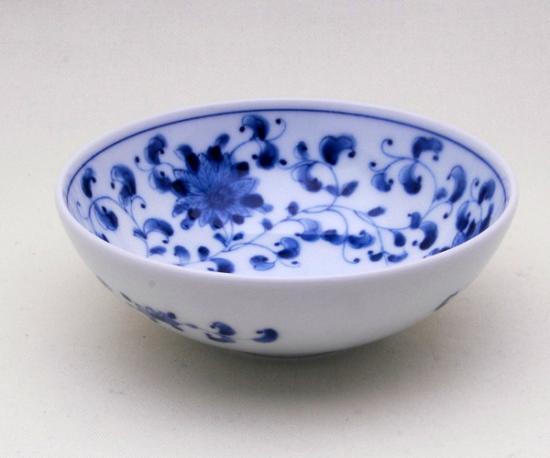 From September through November, as the weather starts to cool down then gets steadily more chilly, we come to enjoy eating root vegetables more and more. Beginning around the time of imomeigetsu (lit. "potato harvest moon") in September, root vegetables with increasingly umami flavors come into season—first sweet potato then lotus root, followed by burdock root, for example. These vegetables appear on Japan's dinner tables in stewed dishes or are simmered separately then combined with meat, fish, or tofu, takiawase style. In the kind of luxurious traditional Japanese restaurants known as ryotei, takiawase dishes are served in lidded serving dishes used for stewed or simmered foods. These dishes are made from beautiful blue and white porcelain or red painted pottery. Look on the back of the lid, and you'll often find a pattern there too.
In our family, we often prepare kabocha (Japanese pumpkin), another of autumn's vegetables, by simmering it or making a pureed kabocha soup. We find that our simmered kabocha can look rather different depending on the kind of vessel we serve it in. Chopped kabocha looks good in a thick, rough vessel like Shigaraki-yaki or folk-craft works. Meanwhile, if the kabocha has been delicately prepared takeawase style, with the corners of each piece slightly trimmed, we serve a small quantity in a deep bowl that is either blue and white porcelain or in an unkin* design. When we serve kabocha chilled, we place it in a celadon bowl, and when we puree it like a soup, we put a little in a smallish teacup, fashion a lid using a piece of kaishi paper*, then pop an autumn leaf on top to create the feeling that autumn is well and truly underway.
In America, pumpkins symbolize Halloween, which takes place on October 31st. Large pumpkins are turned into lanterns, which are displayed around the front door of people's homes, and Americans enjoy eating pumpkin pie.
Japan's kabocha pumpkins, which create a different mood depending on the vessel they are served in, could be considered more versatile, although this may be just a matter of favoritism towards our country's pumpkins. In any case, how about taking a fresh look at the porcelain bowls that you have in your home?
*unkin: please refer to http://yakimono.or.jp/wp/2014/utsuwatalk06
*a kind of Japanese paper; used in tea ceremony for serving sweets and wiping one's fingers.